Nothing beats the impact of a large white fur rug! In fact some care is in order to prevent such a powerful element from overly dominating a room. Nevertheless, it's an exciting piece and I was glad to make it happen for this client.
Donna from Alberta, Canada was looking for a high impact element for her Great Room. She was thinking of a large round alpaca rug, and she loved our White Puffs pattern (hexagonal puffs with diamonds between), but she had some concerns about maintenance. Specifically, she was concerned about how tricky it would be to keep a white fur rug clean.
I explained that alpaca rugs naturally resist dirt. Alpaca fur contains no lanolin, which makes it hypoallergenic, and also means that dirt tends not to stick to the silky, slippery alpaca fibers. Basically, alpaca rugs can be vacuumed (without the beater bar) and occasionally "refreshed" with baby powder. They can be spot-cleaned with dish lotion, and they can also be dry-cleaned by dry cleaners who are qualified to clean leather.
This was good news for Donna, because with her husband in the home construction business, she wanted a real "OMG" piece that would be unique and make a big statement. Solid white is a great way to make that impact, and is less costly than dyed colors. At that point as I recall, we were discussing a 12 ft diameter round rug. That is a seriously large rug, and not every room can handle it, but if there's room... Wow!
Donna was spending the summer in Sweden, so we would have to pick up the conversation when she returned. I remember hoping that she would get back to us because I really wanted to make that piece for her! In September as promised, I heard from her again and design commenced.
The rug was to be made from white alpaca, 11.5 ft in diameter in a White Puffs pattern. Donna preferred round puffs over our customary hexagonal shape, and wanted to maximize impact. Jesus, our head designer felt that the most effective design would be round puffs with a proportional border, so we sent Donna a couple of different design alternatives (below).
Round puffs proved do-able and provide a very different look from our customary design. With hexagonal puffs, the spaces between the puffs are diamond shaped, while round puffs have star shapes between. Donna felt that the design with more circles would work beautifully, and also wanted to go with a surrounding border, so that's the design that was implemented.
You can see the completed custom rug below.
This first picture demonstrates how big 11.5ft diameter really is. These last two pictures show the rug installed in Donna's Great Room.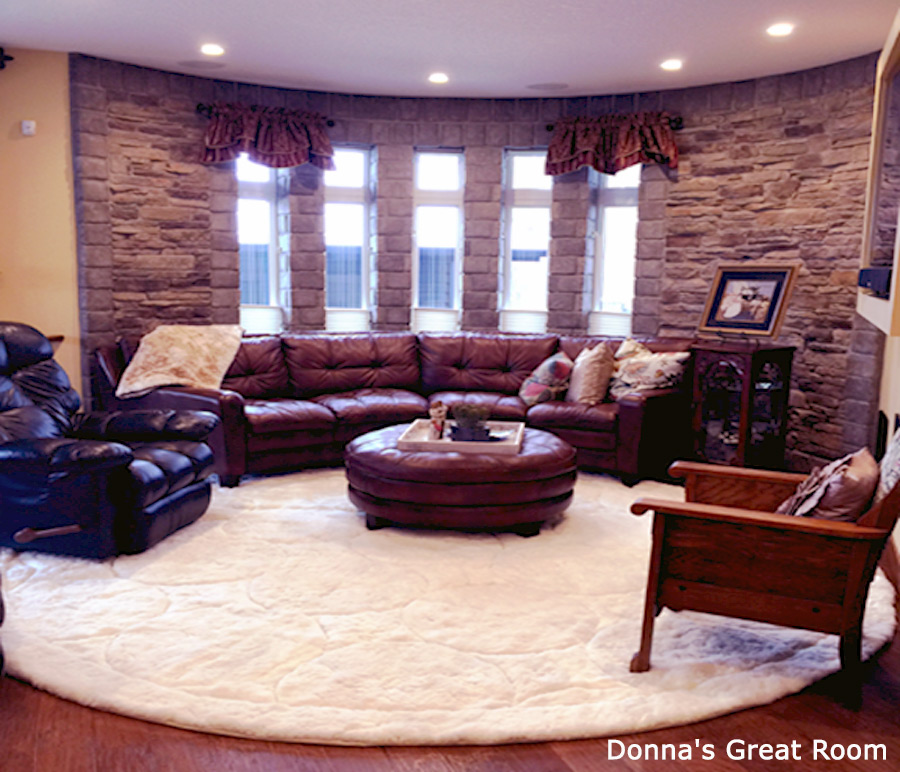 She sent this message, which I forwarded to our designers: 'I have received my rug and I LOVE IT! Thank you so much Marc! Merry Christmas!'
This impressive custom rug effectively defines the sitting area. The furniture does not have to sit totally on the rug to be visually connected to it. This minimizes the size of the rug needed, while still ensuring that the surrounding furniture remain part of the defined space. The light color and size of the rug effectively balances the darker colors and substantial size of the couch, chairs, and ottoman.
What do you think? What successes have you had using fur rugs as major design elements? Please share your comments below.